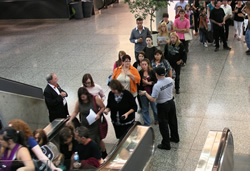 Special Event Security Services Montreal, Quebec
Special events require a unique approach to providing security services.
Montreal Elite Security has developed a security plan specifically for special events that is designed to work in coordination with event organizers, local law enforcement agencies and emergency services before and during each event.
Security personnel assigned to special events are courteous, professionally trained, supervised and equipped to meet the requirements needed to make the event successful and safe.
Specific tasks may include:
Ticket validation and access control
Welcome guests, assist in their registration, and provide them with directions
Check backpacks and perform searches at designated events
Crowd control
Guard event equipment and vehicles
Ushering, door monitoring
Traffic and parking management
First aid and emergency response
We specialize in:
Community events
Private and corporate functions
Weddings, Bat-Mitzvah, receptions
Indoor and outdoor events
Concerts, conferences
Festivals and sporting events
For more information about our special events security services, please Contact Us